It's time to start your adventures
If you enjoy camping, you'll really have a great time at Riverfront. There's obviously a reason for our name…the primitive campsites are stretched alongside one entire mile of Niangua river frontage. There's simply nothing like falling asleep with the soothing night sounds of the forest and the swish of a flowing river. With the wide selection of campsites available, you will have no problem finding one that's perfect for a small family or large group.
Our campground facilities include hot showers and flush toilets, and there are plenty of activities the entire family will enjoy, like hiking, swimming, boating and tubing. Civilization is as close as our convenience store that stocks snacks, cold drinks, ice, firewood and groceries.
ONE WEEK NOTICE
is required for cancellation.
CATERING TOO!
If you get tired of beans and marshmallows, Riverfront offers a comprehensive catering service for breakfast, lunch or dinner. We can accommodate up to 30 people and meal variety ranges anywhere from hamburgers to Kansas City Strips. (Final guest count is required ONE WEEK prior to the event. 
If you're not in the mood for camping please visit our RENTAL CABINS page to arrange clean and comfortable lodging for your next visit.
Campground Rules and Information
Quiet Hours begin at 11pm each evening. ALL MUSIC MUST BE TURNED OFF THEN!
CAMPGROUND SPEED LIMIT 5 MPH AT ALL TIMES
Security guards on duty Friday through Sunday.
Dogs must be on a leash at all times and cleaned up after.
Sorry,  no firearms, chainsaws or fireworks permitted.
Please do not deface or vandalize any trees.
Dumpster and trash bags available
Please no cans in the firepits.
Picnic tables on a first come, first served basis.
Serious cooks please bring your own grill.
Firewood for sale, or you may gather drift or fallen wood.
The main shower house is open 24 hours a day.
Staff persons are available 24 hours a day.
Check out time is 12:00 noon. Please pack up before your float due to future check-ins.
No camp refunds after 2:00pm
We reserve the right to refuse service to anyone.
All prices subject to change without notice.
If you are evicted from the campground, you will not be refunded.
Side-by-Side/U.T.V.'s are allowed with signed liability release – $25 Fee – NO ATV'S ALLOWED
NO GENERATORS
Riverfront Campground and Canoe Rental is open from the end of February through October 31 each season.
Adults (13 and older) – $8.00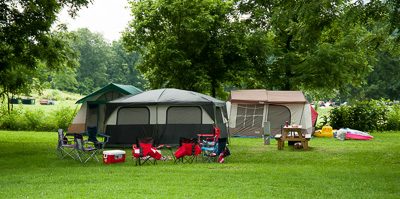 per person, per night
Ages 6 – 12 – $4.00 per person, per night
Ages 5 & Under – Free
RIVERFRONT RV RATES
Gold RV sites (31-61) – These premium sites enjoy close proximity to the Niangua River with many having great river views and access. Concrete pads are 9′ x 40′ in size featuring Water & 30Amp, 50Amp or 110 service, Fire Pit with Grill, Picnic Table and Padded Porch. Holidays require a three night stay. Weekdays – $40, Weekends – $45
night for up to 4 people
Silver RV sites (1-30) – Sites 1 through 30 do not have a concrete pad and are typically reserved for tents (although we do rent to RV Campers as well). Sites 31 through 43 have a standard concrete pad, electric and water. They also feature a Fire Pit with Grill. Holidays require a three night stay. Weekdays – $40, Weekends – $45 per night for up to 4 people
Full Hook Up Sites (A – E)
(Additional people must pay regular camp fee) We MUST receive one week notice for cancellations on electric sites.
SITES 8 – 10 are for small campers or tents only.